In the first levels your passive gives you healing after being out of combat for 4 seconds. It starts based on Evelynn's health and Ability Power. Building AP on Evelynn will increase the healing and make it relevant throughout the whole game.
While in game you are able to clear a few camps without healing from potions or smite. Try to make use of your passive first because it heals you only until certain amount of hp, while the smite and potions can heal you even until full health. Thanks to it, you can use those at the end of your clear to have more health for a possible Gank.
At level 6 your passive unlocks you also a Camouflage effect, which is a great way to go near enemy champions for a greater chance of a kill, or escaping death while being chased.
Your passive can't be detected by regular wards as well as poro wards and Farsight Alteration, or any abilities that grant vision, but not true sight (such as Ashe's E – Hawkshot).
While in stealth, it will show a circle around you, which will mark at what distance will you be detected by enemy champions, if detected, it will show an exclamation mark above your champion. Except for that your Demon Shade can be detected by Control Wards, Towers, and Scryer's Bloom.
Also by casting abilities other than Allure, taking damage from an enemy champions or Attacking a target will remove your stealth. Your passive will not be removed by placing wards or casting your W – Allure.
This is your main source of damage, and the ability you want to level up and max first.
At cast it will launch a Dart in the targeted direction. It applies a Debuff which gives you more damage on the next 3 basic attacks or abilities, and if the dart hits a jungle monster, the Cooldown is reduced by 60%.
On the second cast you fire a line of spikes into the attacked enemy, which deals magic to all enemies in the line, and if you have missed the first cast, it will fire it into the nearest target.
When clearing camps make sure to hit the first dart, and on camps like raptors or wolves try to hit as many monsters as possible to deal more damage and drain more life from your Hunter's Talisman.
Against champions your Hate Spike is your only way to proc Allure from range, as well as it is a good source of single target damage.
With the CC duration scaling along with leveling up its the second ability you want to max.
It is a curse which you can cast on both champions and jungle monsters. After the cast it will apply it for 5 seconds, and it will show a heart above he target.
If used on Enemy Champions after you cast a spell or attack the cursed target:
It will slow the target by 65% and refund the Mana cost if you triggered it before 2,5 sec.
It will charm the target and, if its a champion – it will reduce their magic resistance by 25% for 4 seconds.
Against jungle monsters the Mana cost will be refunded, the charm duration will be increased by 2 seconds and the target will take bonus magic damage.
Allure will be triggered only by Eve's attacks and abilities, so using chilling smite or items like Hextech Protobelt will not charm the enemy.
Doesn't gain a lot, so you might want to leave it as a last ability you will level up.
Deals magic damage based on target's maximum health, and applies on-hit effect. After that you gain 30% movement speed for 2 seconds. However after gaining Demon Shade the spell has its Cooldown reset, and empowers the next cast of the ability.
The next cast of the ability will be a dash which damages all the enemies on the way and deals damage, and applies an on-hit effect only on the target.
The on-hit effect of both versions of this ability allows you to benefit from items like Hextech Revolver or Lich Bane.
You can also use the empowered version of your Whiplash to AOE multiple minions or jungle monsters.
You become Untargetable and deal magic damage to all the enemies in front of you, and than leap back 400 units. The damage is doubled against enemies with less than 30% of health, which will be visible as an indicator on the targets to which the damage will be doubled. As the damage will be doubled, your ult may not be enough to kill if the enemy is Tanky, so you need to judge that yourself. Also if the enemy would receive a heal or a shield, you my not get to kill, so always take it into consideration.
It can be also used as AOE damage source in Team-fights. Hitting a whole team might be more effective than preserving it for one carry in the enemy team.
Aside for securing your kills Last Caress can also be used to dodge abilities like Ultimates of Syndra, Karthus or Veigar, as well as the application of Zed's R (doesn't make you avoid the damage however).
Your Ultimate can be also used to avoid tower damage after a dive, to escape over walls or simply getting away from an enemy, as well as getting near the low health targets to ensure your kill.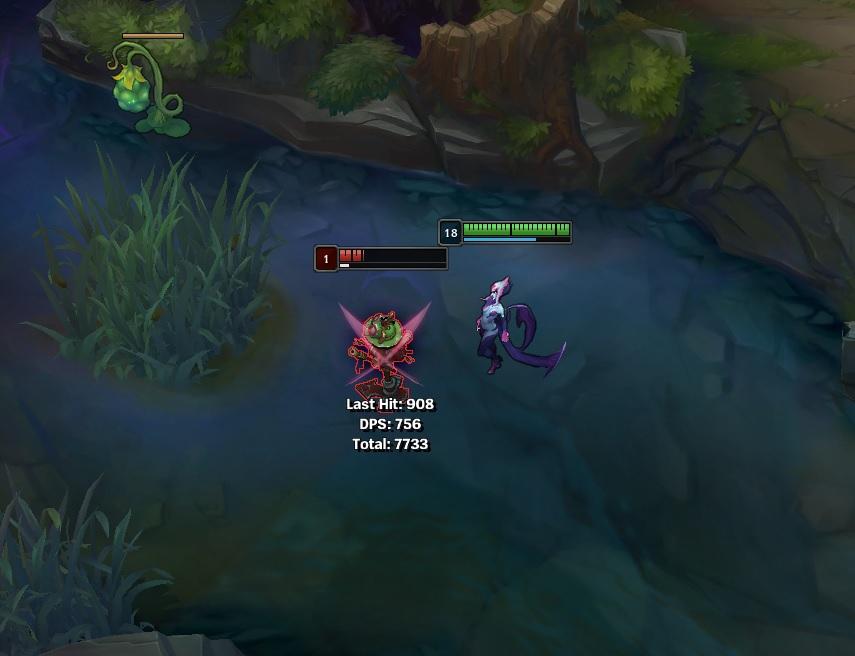 Evelynn Best Summoner Spells
This summoner spell is necessary while playing jungle. Not only it gives you the ability to buy the jungle items, which will help you in gaining experience from the camps, as well as helping you to secure the red and blue buff, and epic monsters like baron or dragon.
It is an essential spell for most of the champions in the game. It allows you to avoid death by dodging an ability or flashing over walls, as well as flashing into enemies to suprise them or ensure your kill by getting in range of your abilities.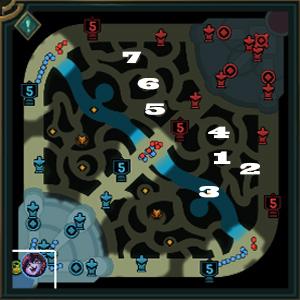 Blue – Gromp – Scuttler
As you start botside, you will get a stronger leash from your teammates, which makes it quick enough for you to do also Gromp before going to the river to contest the Scuttler. Try not to smite the camps however especially if the enemy jungler started on his red buff, because he might try to steal it. After the scuttler you can just clear your Wolves and Raptors, Red and Krugs, unless you would see the enemy jungler entering your jungle from topside. Than you might consider going to steal his camps, or kill him there with your midlaner/toplaner.
Blue – Scuttler
As only your toplaner will help you in your first camp, you may not get enough time to do your gromp as well before the scuttler spawns at 2:00. This route might be also an option if you didn't get a leash at all on both teams. After the scuttler you just go for your gromp before doing your wolves and botside of your jungle.
Red – Raptors – Scuttler
Its a really good start on the blue team since you get your bot lane to help you with your red. This option is fairly similar to your "Blue – Gromp – Scuttler" route, with the difference that you need to watch your mana bar, since you don't have a blue buff to regain it quicker. Also do not do Krugs after the river since you might lose a lot of time on them, and its risky since the enemy jungler can steal your camps on the top side of the map.
Raptors – Scuttler ( with no leash )
If you wouldn't be getting a leash from your teammates, thanks to your Q and the Hunter's Talisman you can kill the Raptors pretty quickly and at the same time not lose much health because of the life drain from the item. Its safer to go for the Scuttler right after the first camp, since you won't be able to alone do also your red buff before the Scuttler spawns. This route is also good if you don't want to give up your starting position, or the enemy Jungler is cheesing you.
This option involves you stealing the enemy Junglers buff, and clearing the Scuttler and your jungle quickly to avoid losing your camps afterwards. This technique is risky, since if the enemies realize what you are doing the Jungler can go to the other side of your jungle and steal all the camps there before yo even get to reach it.
Steal Blue – Scuttler – Red – Raptors – Wolves – Blue – Gromp
If your enemy is starting at the red buff, and you make sure there is no one on the other side of the jungle, you can try stealing his blue, and than after instantly going for a Scuttler. Its especially good against junglers using a lot of mana, but even without that you are putting the enemy jungler behind.
Steal Red – Scuttler – Blue – Gromp – Wolves – Raptors – Red – Krugs
The same strategy, but instead of stealing blue, if the enemy starts at it you need to steal his Red and rush to the Scuttler. Afterwards you go the same path except that you might want to do your Red before the Raptors, since the other Jungler might want to steal it.
After you get you Camouflage the ganks become quite easy, and the only thing you need to worry about are Control Wards which the enemy laners might have in their bushes.
Ganking before 6 is much more challenging, you usually want to gank only if the lane is really pushed, so you have an opportunity to approach without the enemy having time to run away. You also need to make sure they don't have warding totems, since as you are not in stealth you can get noticed even by those.
There are many meele top laners which especially against ranged champions in order to win a lane or be able to farm need to play aggressively.
That will most likely mean a pushed lane and an opportunity for a gank. If the enemy has a teleport, after a successful gank you can even go to a bush and wait for him to teleport back to lane.
Also if the lane is pushed you might want to wait in the river bush, and when the enemy laner approaches the bush with the intention to put a ward, you can kill put your W on for a slow and kill him.
Except for larger amount of wards that the enemies might have, the Ganks will be relatively similar to top. As there are two champions however, the Ganks on bot might be slightly more dangerous, but more rewarding at the same time since you can kill two people at the same time. You also usually want to Gank when some of the summoner spells are down, it will obviously be easier to Gank if the enemies have less of a chance to escape. Also have in mind if you play with an aggressive support like Leona or Thresh, it may be a lot easier to Gank rather than with a Janna.
Since there is relatively less space on midlane unlike other lanes, you don't have time to charge your W, and you might play against champions with dashes like Azir or LeBlanc, which means unless they just used it in a trade with your midlaner, they will most likely escape. It also depends on who you are playing it, if its a champion with a stun or slow like Annie or Twisted Fate, you might be able to kill the target easily and make your ganks at mid more useful. Mid lane ganks don't get much better after 6 since you still have not much of a chance to charm the target, as well as no opportunity to get behind the tower without getting spotted. Both the enemy mid and jungle might also put control wards around mid which you cannot avoid without getting spotted. If the player is low on health however your Ultimate still makes it for you relatively safe to kill and escape quickly thanks to the tower aggro reset.
Late Game as Evelynn Jungle
In team-fights you usually want to flank the enemy team and go for the carries and squishies standing at the back, which will be easier than for most champions considering your stealth. Make sure to not reveal yourself until the fight starts and pick the easiest to kill champion. After the target positions, you can put Allure on them an whether wait for it to charge to get a charm, or just kill him right away if that's the safer way. Sometimes you don't even need to kill the carry to let your team win the team-fight, since even only getting the carry out of the fight means a lot.
You will always end up playing around the Epic Monsters like Baron and Dragon.
You are probably the best player in your team to go into the enemy jungle to grant your team deep vision.
It is especially good when others are pushing the lanes.
Keep in mind that you still can be seen by control wards, and there might be an enemy champion in a bush.
Conclusion and How to Become Better LoL
That would be it for our Evelynn Jungle guide.
We hope the article was helpful and that it will make it easier to master Eve and carry your games !
If you still feel like you could do better, make sure to check out our League of Legends Coaching.
We have plenty of Master and Challenger coaching professionals ready to teach you how to play not only Jungle Evelynn, but any role or champion you could possibly ask for !